---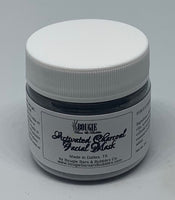 Activated Charcoal Facial Mask
Bougie Bars & Bubbles Co.
The highly requested facial masks are here! This combination is perfect for those who have dark spots, blemishes, acne, eczema, and other skin dyscrasias. Benefits listed below.
Activated charcoal is good for treating dark spots, blemishes, acne, and skin allergies (including eczema and psoriasis), tightening of skin, cures stings and bug bites, removes dead skin and other impurities, and shrinking pores.
Bentonite clay has the ability to detoxify and cleanse clogged pores which, in turn, reduces the appearance of your pores. It also balances skin complexion, leaving your skin rejuvenated and smooth.
Kaolin clay is a general cleanser and exfoliator. It removes the impurities and dirt from the skin, reduces oily skin, heals insect bites, cuts, and injuries, and tones the skin.
Colloidal oatmeal is good for relieving inflammation, and soothing itch. It is also good for its moisturizing and exfoliating properties, slowing the effects of aging, and creating a skin barrier.
Frankincese oil has the ability to strengthen skin as well as improve skin tone and elasticity. It may also makes acne, chickenpox, and eczema scars and marks fade.
Size: 1oz *($15)
*1oz of Activated Charcoal Facial Mask powder is ~ 6 teaspoons of powder
Ingredients: Kaolin clay, bentonite clay, activated charcoal, colloidal oatmeal, and frankincese essential oils. Colorant free (may be tinted with natural colorants from ingredients).
Directions for Use: Add water, aloe vera gel, milk, or plain yogurt to activated charcoal facial mask mix at a 1:1 ratio or as desired. Mix well with wooden or ceramic spoon (NO METAL). Apply to clean skin and leave on for 5-10 minutes. Rinse off with warm, damp towel. Follow-up with our Rose Water Facial Mist followed by our Face Moisturizing Cream or a moisturizer of choice.
Skin Types: Oily skin, sensitive skin and normal skin