---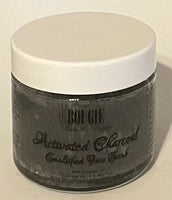 Activated Charcoal Facial Scrub
Bougie Bars & Bubbles Co.
The highly requested facial scrubs are here! This combination is perfect for those who have dark spots, blemishes, acne, eczema, and other skin dyscrasias. Benefits listed below.
Activated charcoal is good for treating dark spots, blemishes, acne, and skin allergies (including eczema and psoriasis), tightening of skin, cures stings and bug bites, removes dead skin and other impurities, and shrinking pores.
Size: 2oz ($15)
Ingredients: Olive oil, raw shea butter, aloe vera gel, pure cane sugar, emulsifying wax NF, optiphen plus (paraben-free and formaldehyde-free preservative), and activated charcoal powder. Essential oil added. No colorants added.

Directions: Use finger(s) to scoop out an ample amount of face scrub and apply to wet skin. Make gentle, circular scrubbing motion to encourage discarding of dead cells, promote blood circulation and expulsion of free radicals from the skin. Apply to areas of face where skin tends to become dry and flaky.

Wash off the lotion (residue) with warm water, and dry the skin by patting with soft towel.
Skin Types: Dry skin, oily skin, sensitive skin and normal skin
For External Use Only. If irritation develops, discontinue use. Do NOT use if you have allergies to any of the ingredients.